Who we are
Delatorre Consulting

Delatorre consultancy office is made up of a wide, varied team of international experts in matters of Beach Design and Adaptation.
It is the only company that offers a highly specialised service with the ability to take on any kind of beach anywhere in the world. The collaboration between the various consultants allows innovative, modern proposals to be drawn up on how to plan and transform a beach to convert it into a place that is attractive, comfortable and pleasant for everyone.
Delatorre Consulting's knowledge about environmental regulations, international criteria of tourist quality and its mastery of landscape and management techniques are some of the points that are most highly valued by customers when requesting the design of their beach.
The Delatorre Consulting Group counts on the direct collaboration of the company Beach Trotters in everything to do with beach equipment.
Beach Trotters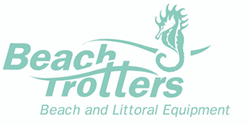 Beach Trotters has become an international reference in supplying top-quality equipment for beaches.
Its customers can be found all over the world and are growing in number every day. The products offered have two common characteristics: their high-quality and their adaptability for intensive, professional use on beaches.
The range of products is the widest and most varied on the international market. Its products cover:
Efficient, practical beach cleaning machines.
Bars/kiosks and beach equipment.
Floating amphibious chairs.
Intelligent water-saving system.
Ashtrays for beaches.
Equipment for sport and having fun on the beach.
System for the creation and protection of dunes.
Further information at: www.beach-trotters.com